Coffee in the Park continues… even though the cops showed up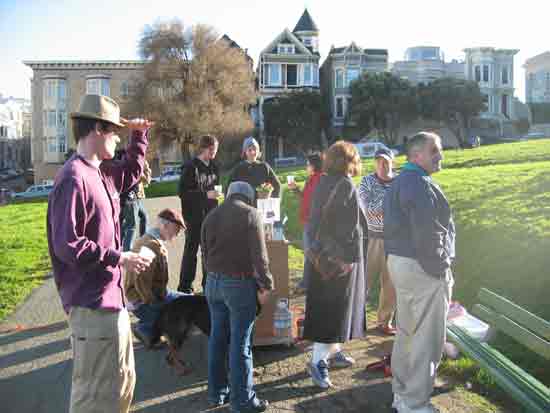 Weather looks good! I'll be out there from 10:30 – 3:30/4ish. Bring your flyers for upcoming events, postings, missed connections, etc. Try to make the postings small as there isn't much room on the cart. If someone is feeling good, they could bring a small table/tv tray for the baked goods. I unfortunately don't have a small table. Music people, please bring your instruments. It is always nice to have theme music. Maybe we could make a recording/ album.
The SFPD (cops) showed up last week and didn't like the extension cord, but we compromised. I can still serve coffee every Saturday, but I have to switch to a different power source until I obtain a permit for the extension cord. I willingly switched over to a car battery and power converter that fit nicely inside the cart, making it extremely portable. This event has spurred me to think I should serve coffee in other city parks, any suggestions? I will put together a schedule in the next couple of weeks as I get your input.
Filed under 001 Imagination, 007 Coffee in the Park, Events, intss blog by Marc Horowitz on Jan 31st, 2004.