Early Exercise Ball or Fart Bubble?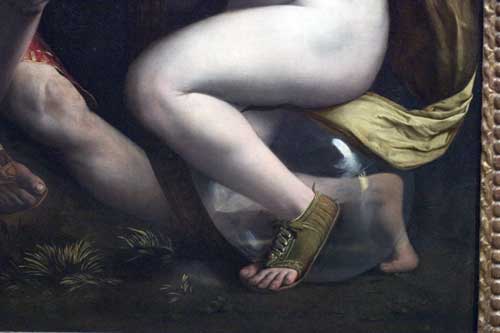 I went to the Getty Museum in LA over the weekend and saw this painting. I've seen it before in books and magazines, but I never really had the chance of looking at it so closely. What is she seated on? Is this the first exercise ball in history or is it merely a huge (mythical) fart bubble? or both?
And why can't we see the man's leg through the unbreakable mythical exercise fart bubble thingy? Do men's legs disappear in those sort of things? This could be the answer to the world's pollution problems or time travel or getting rich quick.
You be the judge.
[tags]marc horowitz getty museum mythical fart bubble exercise ball thingy[/tags]
Filed under 001 Imagination, intss blog by Marc Horowitz on Mar 26th, 2007. Comment.